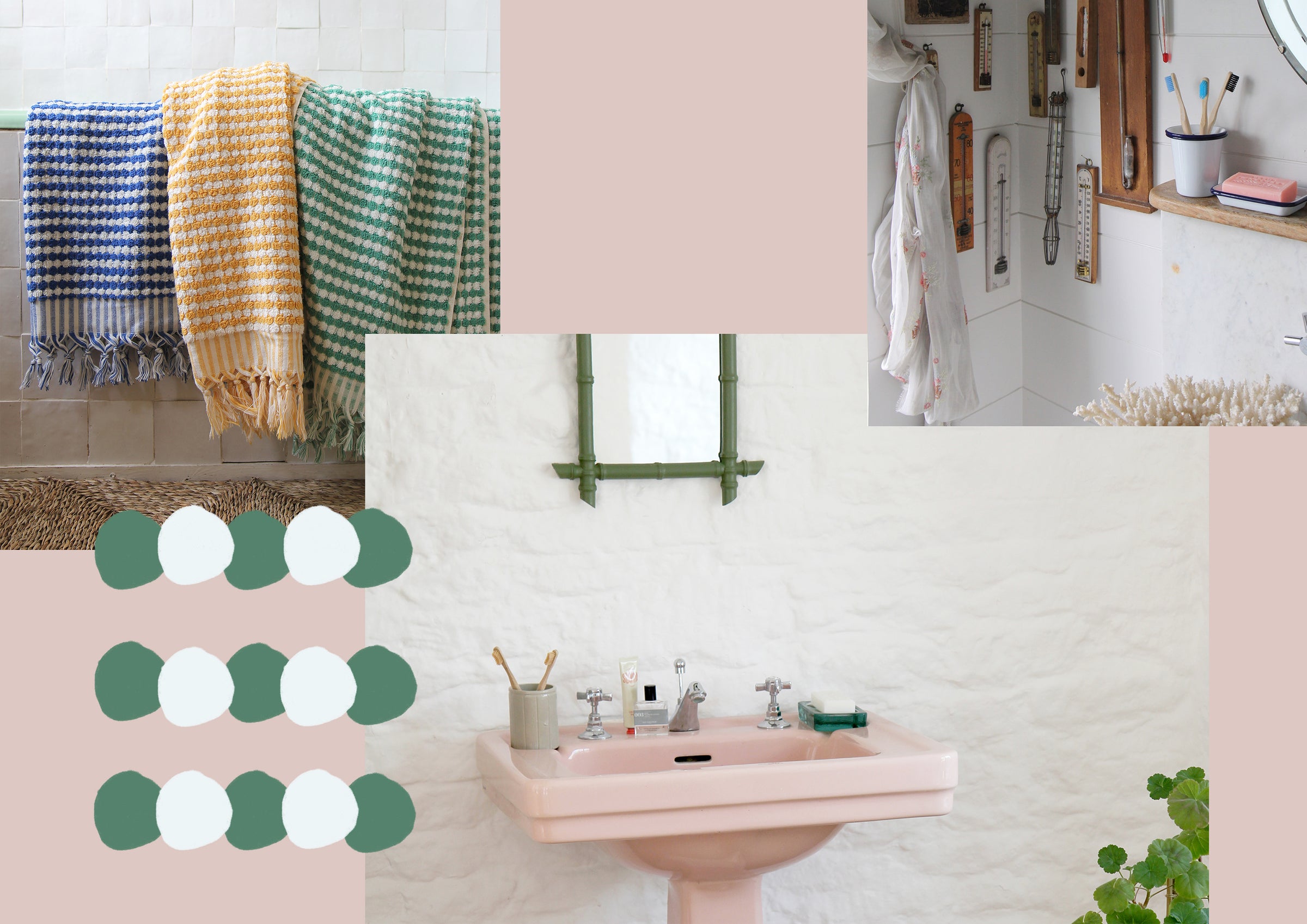 What's in your
bathroom Libs?
from chunks of coral to rose geranium candles
What makes a great bathroom?
Here at Domestic Science we believe that if you are able to do so, a bathroom should feel like any other room in your house. There is no reason not to add a favourite piece of art for example, or that shell and pebble collection that your children (or the child in you) have collected from your favourite beach.
If you have the space, why not add an armchair? The ultimate in luxury yes, but such a lovely way to add some softness to a room that is so often sterile and hard. If you can't fit in an armchair (and let's be honest, not many of us can) how about a vintage elm stool? Perfect as a perch for yourself or a glass of cold wine by the side of the bath.
Mixing both old and new is a key element to Libs own spaces at home and that of Domestic Science too. In bathrooms this can be used to great effect, allowing you to bring in texture and warmth with some vintage pieces mixed with the functional new elements that a bathroom has to often have. This combination creates a restful, unique but also a practical space too.
If you aren't sure where to start with that bathroom refresh, we sat down with Libs to ask her what her bathroom picks were.
vintage elm stool
Solid Elm stools, functional and perfectly aged. Each stool has plenty of character and will add rustic charm to any bathroom space. Can be used as both a seat and a side table.

STOOLS
fikkerts bath foam
Made in Yorkshire, Fikkerts bring together the knowledge of traditional herbalists combined with modern aromatherapy to create products with genuine skincare benefits.
FIKKERTS
ampersand fragrance
Made in England, California Eau de Parfum by Ampersand Fragrances. Sunshine radiates from this light and fruity scent. Floral mids bloom into green and citrus tones.
FRAGRANCE
vintage enamel wall cabinet
A characterful chipped painted finish are exactly what we look for in a vintage find. A versatile piece that adds interest to a bathroom whilst also serving a functional purpose.
VINTAGE
turkish towels
Made from the softest terry towelling, their spot design and tassel trim is crafted from Turkish cotton woven on traditional shuttle looms, making them a soft, absorbent choice.
TOWELS
ditto bamboo mirror
This replica Bamboo Mirror has been hand-crafted exclusively for Domestic Science. Add a joyful splash of colour to your bathroom with this playful take on a vintage classic.
mirror
Ceramic Candle Rose Geranium
Exclusive to Domestic Science, Rose Geranium can calm anxiety and lift spirits with its uplifting scent. Our candles are hand-poured in England into a reusable ceramic beaker with lid.
ds candles
Handloomed recycled bathmat
Made by Puebco homeware, this hand-loomed cotton bath mat is made from recycled yarn and has a hand crafted feel that is not found in everyday mass produced goods.
bathmat
coral collection
Fantastically tactile and sculptural, each piece of coral is highly decorative with wonderful organic structures, perfect to add to any bathroom shelf or ledge.
coral
Adding in a floral touch of Fikkerts foam to your warm bath, a Rose Geranium candle burning in the background and a cosy Turkish towel to wrap yourself in after, you have yourself a perfect evening to wind down after a long day. Sounds like bathroom bliss to us!
Think pink
We've noticed coloured sinks are back on trend & we are so happy about it. Lib's has always loved the retro aesthetic and this pink sink she chose does just that!