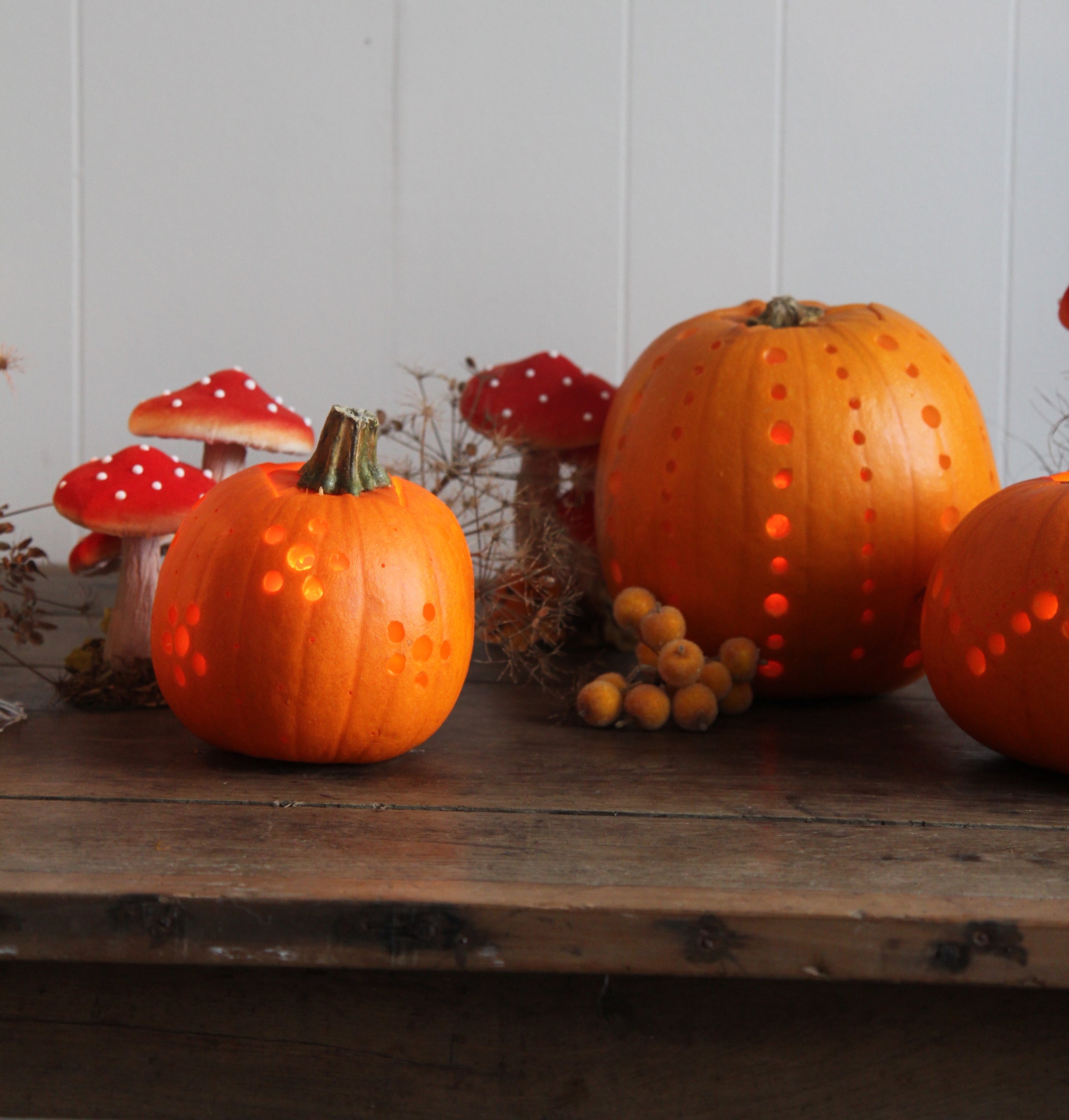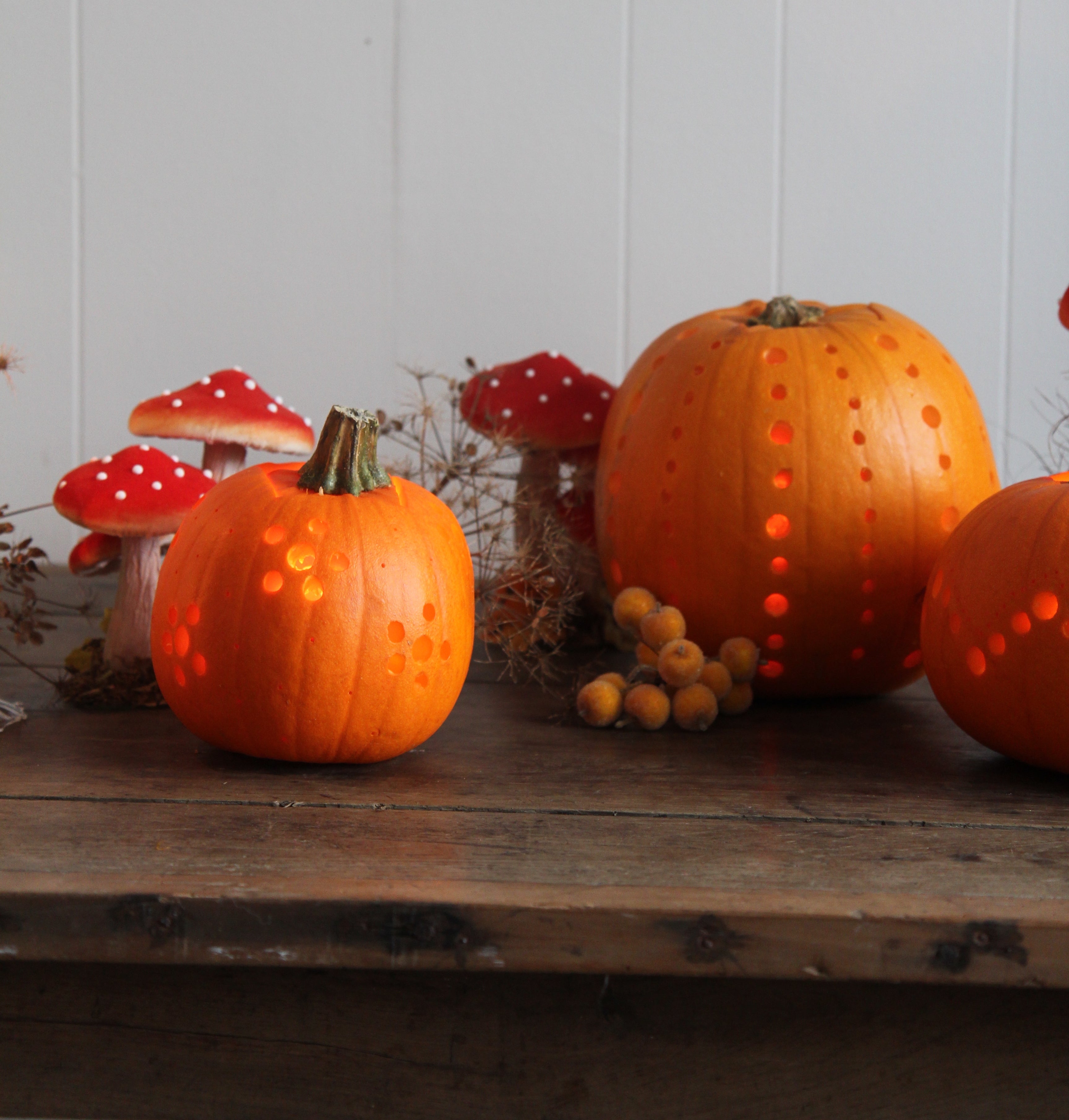 Journal
HOW TO: Decorate with DRILLED PUMPKINS
We don't go crazy for Halloween here at Domestic Science, but we do love a good orange pumpkin! Carving pumpkins is the go to October activity, but why not have these decorations for further than just Halloween! Using drilled holes to create speckled light is an effortless way of turning pumpkins into cosy lantern lighting. Paired with a few of our seasonal woodland decorations you'll have the cosiest display, ready for Autumn evenings.

STEP ONE | A WHOLE LOT OF HOLES
All you need to do to start the process is hunt for the perfect pumpkins, grab a drill with different sized Drill bits to achieve a variety of holes and hollow out your pumpkin as usual and you're ready to go! (P.S Keep the pumpkin innards for reusable uses we will talk about later!) Make sure to keep a firm grip on the pumpkins so they don't slide around and start by drilling slowly to get the hang of it. Meg created the larger holes first, evenly creating stripes around the outside of the pumpkin.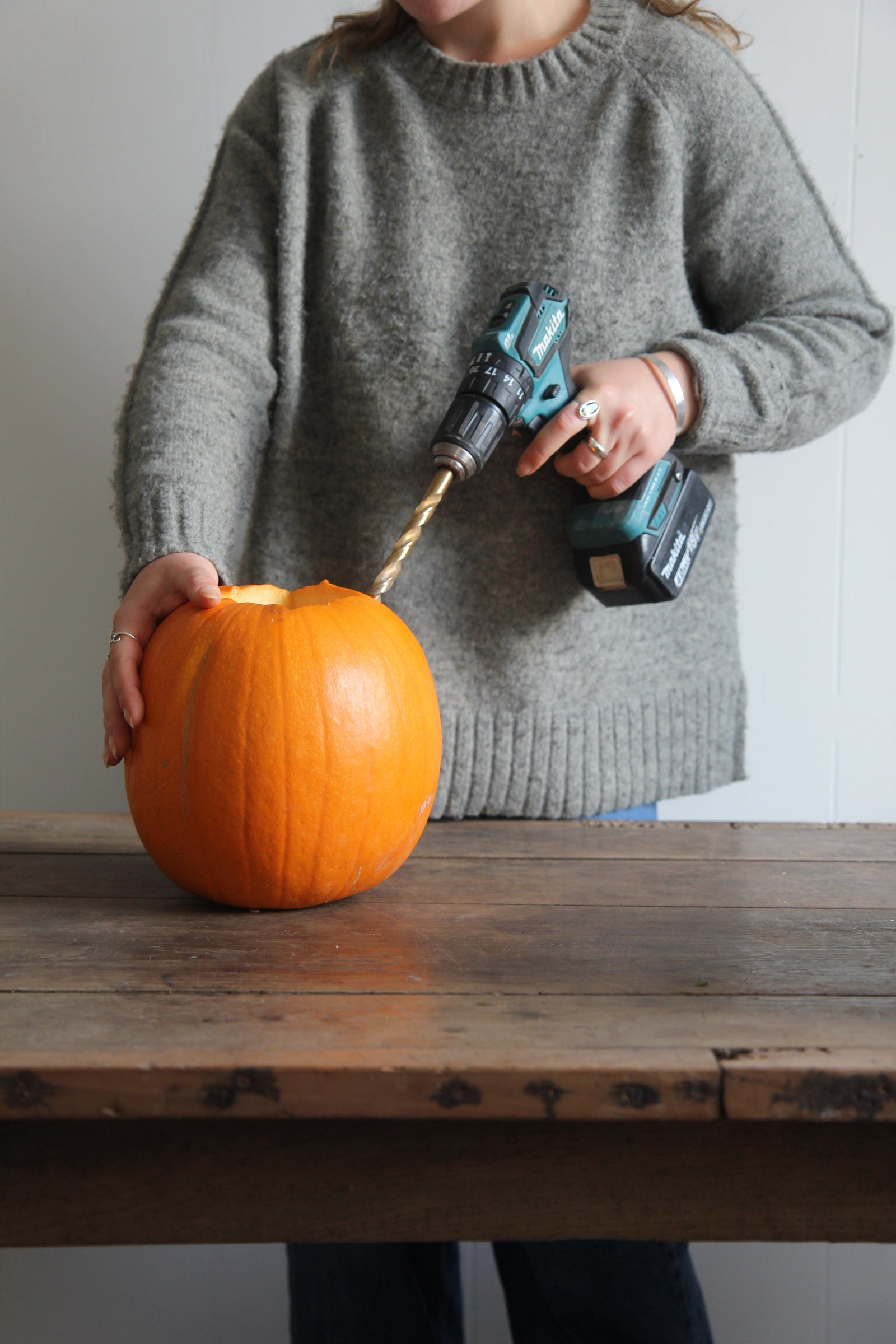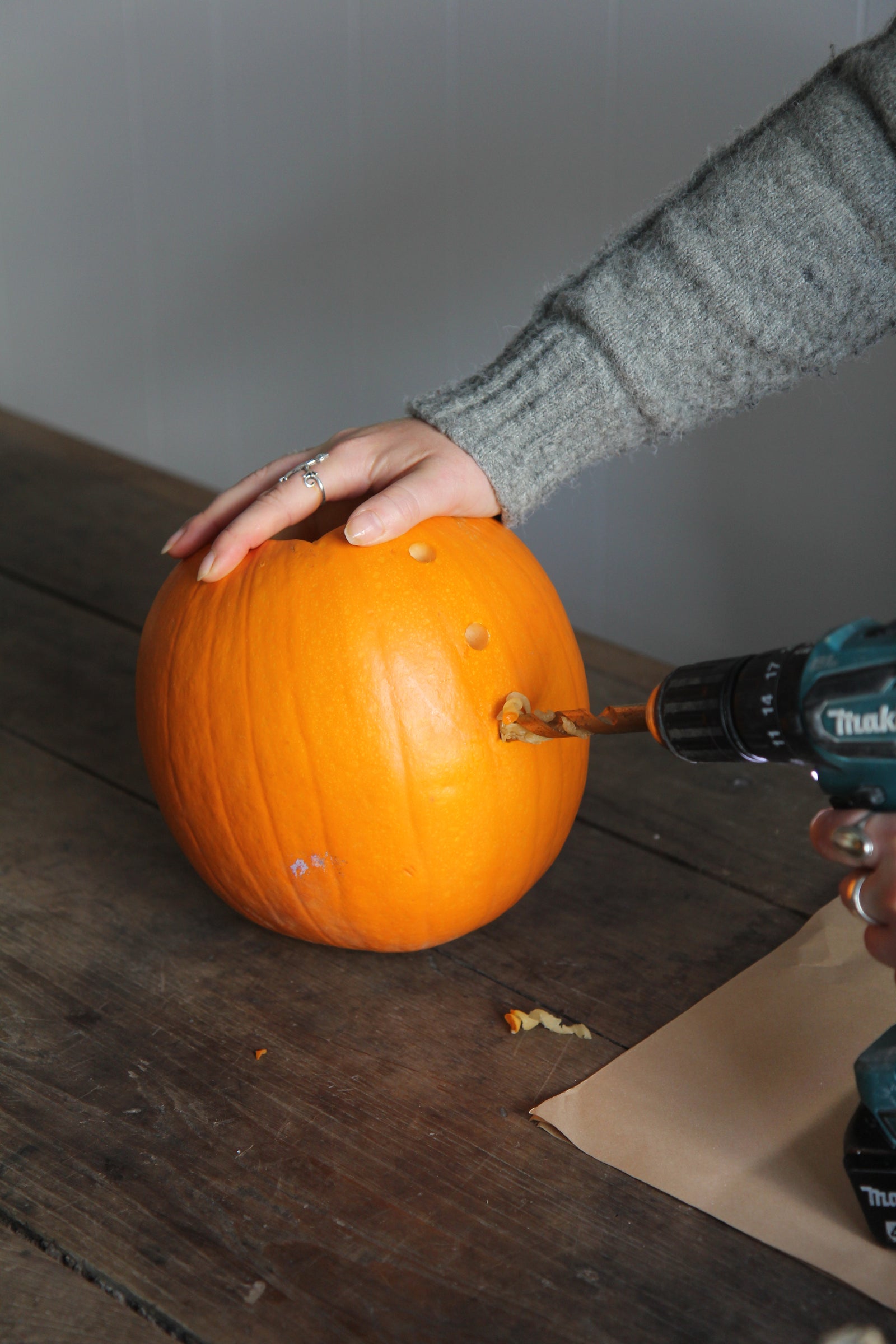 STEP TWO | GET CREATIVE
Now you've got the confidence, go ahead and get creative with different patterns and sizes, making sure the drill goes right through the skin to let the light out. Changing onto a medium drill bit, Meg added smaller holes in between each larger hole. It's such an easy way to decorate your pumpkins and Meg said she loved it the process. (P.S Keep an eye out for the flying pumpkin pieces if you drill too fast).
STEP THREE | LET THERE BE LIGHT
After you have finished making a beautiful mess, strike a light ... grab your tea lights and watch the magic come to life! We love the warm and speckled effect they bring to the room, and can be styled as lighting inside or placed outside for wandering admirers to see for the perfect Autumn addition. Check out below to see how Scarlett has styled our Polka dot pumpkins.
Shop the STYLE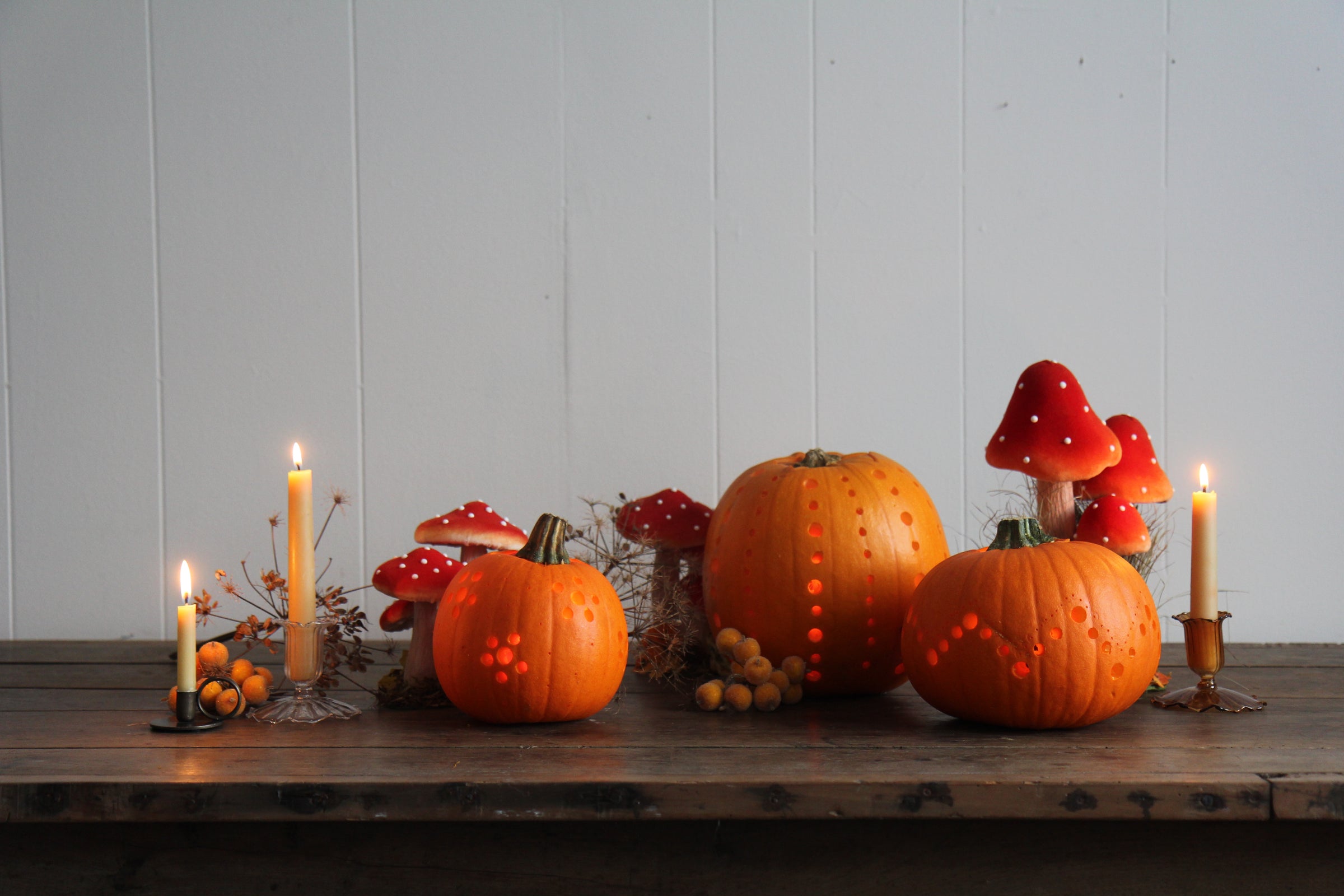 DON'T TOSS THOSE PUMPKIN GUTS!
It always feels like such a waste when carving out pumpkins, especially if you've grown it yourself! But there are so many ways we can reuse the innards.
Save the Pumpkin seeds as a tasty snack for you or the neighbourhood birds. Or follow one of these tasty recipes from Food52 who use them in fun (and delicious) ways!